For women, the beauty pursuit from clothing, makeup to nail polish is endless forever. It's old-fashioned with beautiful painting or 3D stickers on the nails.In order to make money from the pocket of those smarter who know better scientific, cosmetics makers introduced magnetic nail polish.
This is a nail polish mixed with iron powder. Utilizing magnetic force, new painted nail closed by a magnet, the ferrous powder inside the painted nail will be deflexion in a magnetic field gradually. There will be leopard-like stripes on the nail after this process and the pattern will change as you like.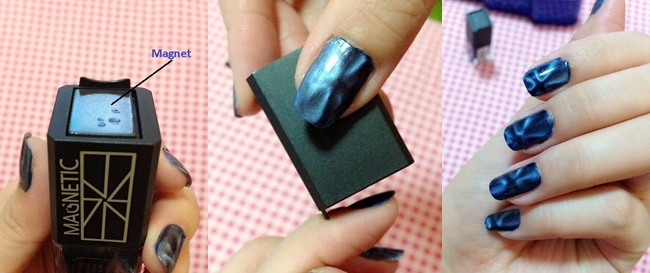 With the arrival of magnetic nail polish, so many female friends found their own personality. No longer bound by the nail polish pattern, decorative pattern and glossiness set by users themselves; this is also a test of self-aesthetic.
Have you even uesd these super fashion magnetic nail polish? Buy one and DIY now.