Big Permanent Magnets for Gun Mount
Neodymium Permanent Magnets are the premier rare earth magnets on the world. Superior in both remanence and coercive force, a very small size NdFeB magnet can attract an object several times heavier than itself. As all guns have something in common - metal, neodymium rare earth magnets are ideal magnet for gun mount.
As a big permanent magnet manufacturer, China Magnets Source Material Ltd offers a range of strong sintered neodymium magnets suitable for all kinds of gun magnetic mounts. Our powerful neodymium block magnets in grade N45, N48, N50 N52, N55 are widely employed in USA with more than 500,000 installations.
Our gun mount magnet is offered in a range of sizes with neodymium material: 1.5 inch x 0.75 inch x 0.5 inch, 2" x 1" x .5", D38 mm x 3 mm. The neodymium magnets for gun mount can be customized to meet specific client needs. Contact us if you need.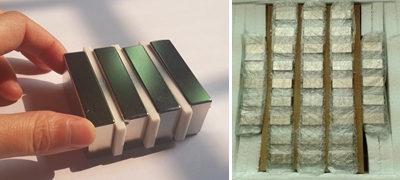 If you want to DIY a cheap magnet mount, there is a tip for you: using big inexpensive ceramic block magnet instead of super strong sintered neodymium magnet or you can find free neodymium magnet in an abandoned computer hard drive.

Magnetic Aircraft Flight Stand – The Way to Allow Miniatures to Tilt or Move in Different Directions